Barbette Affairs Travel agency participated in travel exhibition ITF Slovakiatour 2014 which was held in Bratislava from 29 January to 2 February 2014.  Thank everyone for visiting us. We look forward to seeing you next year.
---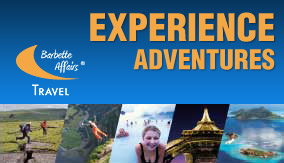 Space Expeditions
The incredible becomes a reality. As in the past, when no one believed, that once a man could transcend the atmosphere and get into space and these imaginative ideas were described only in SCIFI books, as well as today, many people still do not believe, that space tourism is knocking at the door.The universe firsthand so far (september 2012) has experienced only 528 astronauts/cosmonauts. This unique opportunity in addition to Neil Armstrong, Jurij Gagarin, Valentina Tereskova, John Glenn and others has been given also to us well known Vladimir Remek and the first Slovak cosmonaut Ivan Bella. In 2004, the first private space company sent into space the first civilian pilot, an astronaut from the cosmodrom in Mojave, California.

More information can be found here.