Barbette Affairs Travel agency participated in travel exhibition ITF Slovakiatour 2014 which was held in Bratislava from 29 January to 2 February 2014.  Thank everyone for visiting us. We look forward to seeing you next year.
---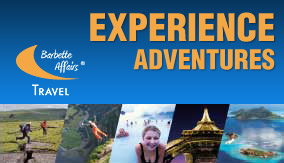 Brief Overview of Our Services
We offer you unforgettable package holidays in a small country with infinite possibilities of experience. Join us to discover Slovakia in the heart of Europe. Discover picturesque villages, cultural and historical monuments, typical traditions and delicious cuisine. Immerse yourself in natural hot springs even in winter. Check out our ski resorts and visit our deep caves and stunning mountains on historic trains. And make sure you do not forget to visit the truly unique Slovak Rocky Sea.
We are not an ordinary travel agency that organises mass tours. Some of the trips are offered with fixed dates, others can be tailored according to your time preferences. First of all, we are here for you when you decide to experience something atypical, in atypical destinations, and are too busy to plan and organise the tour yourself. Or perhaps, you do not know what to expect from such destinations. We will arrange a hotel at your wish and requirements, and when you are available. We can also manage a Slovak guide with extensive knowledge of the destination to be your companion. Our destinations may seem cost-intensive, yet we are able to offer competitive price quotation corresponding with the tour standard of your choice. Our knowledge of the sites and local partners in the destinations of our specialisation ensure full comfort and, first of all, safety, since we believe that safety always comes first on family holidays. The owner and director of our company has experienced the majority of the above destinations with his own family.
For more information, click here or go to our website: www.barbettetravel.eu

We are a member of Slovak Association of Travel Agents   

We offer you travel insurance in cooperation with Union Insurance Company where our travel agency is also insured against bankrupcy.

Guarantee list issued for our travel agency is available to see here.
Outdoor English
We offer certified and/or customised informal courses according to your needs.
Outdoor French
We offer certified and/or customised informal courses according to your needs.
English Language School for Children
Your children can learn English via field games outdoors and spend a week in an English-speaking country.
For more information, click here.
Interpreting and translations to and from French, English, Italian, German, Russian, Spanish, Polish, Serbian, Chinese and Hungarian.
Upon request, we manage either the interpreting only, or comprehensive interpretation services.
Simultaneous interpreting
Consecutive interpreting


For more information, click here.
The incredible becomes a reality. As in the past, when no one believed, that once a man could transcend the atmosphere and get into space and these imaginative ideas were described only in SCIFI books, as well as today, many people still do not believe, that space tourism is knocking at the door.The universe firsthand so far (september 2012) has experienced only 528 astronauts/cosmonauts. This unique opportunity in addition to Neil Armstrong, Jurij Gagarin, Valentina Tereskova, John Glenn and others has been given also to us well known Vladimir Remek and the first Slovak cosmonaut Ivan Bella. In 2004, the first private space company sent into space the first civilian pilot, an astronaut from the cosmodrom in Mojave, California.

More information can be found here.

Based on your needs and requirements, we offer a full service organising tailor-made international events in Slovakia and abroad, such as:
business events and meetings
looking-up of business partners
management of international projects
seminars, conferences, workshops
receptions, cocktail parties, audiences
cultural, musical and sporting international events
accompaniment of foreign delegations, and guided tours for foreign delegation
accompaniment at the institutions of the European Union and the Council of Europe, organisation of meetings/discussions in the institutions of the EU and the Council of Europe (Brussels, Luxemburg, Strasburg, Frankfurt am Main, and other seats of the EU agencies)
Our managers are advised by top experts and professionals in diplomatic and business protocol when preparing all international events.
For more information, click here.